Posting emails addresses on public
forums
and webpages is a sure shot way to get your
email
address
picked by
Spam Bots
and get listed on spam lists, the most common hack used to prevent SPAM BOTS is to post email address in malformed state for example
xyz@abc.com
can be posted as xyz [AT] abc.com but as spam harvesters get smart with ever evolving algorithms this is not a fool proof method, similarly
Javascript email encoders
can also be decoded and e-mail captured.
reCAPTCHA Mail Hide
is a simple, fast, fool-proof and free solution to the problem,
reCAPTCHA Mail Hide
brings proven CAPTCHA based spam protection to prevent your email address from automated email harvesters, using
reCAPTCHA Mailhide
is very simple
just visit this page
and submit the email address you wish to protect and post on internet, the service will then give you a simple copy and paste HTML code and a unique URL which you can post on webpages,
blogs
, comments and forums, the html code snippet will display your partial email address and revealing the full e-mail address requires users to solve a CAPTCHA.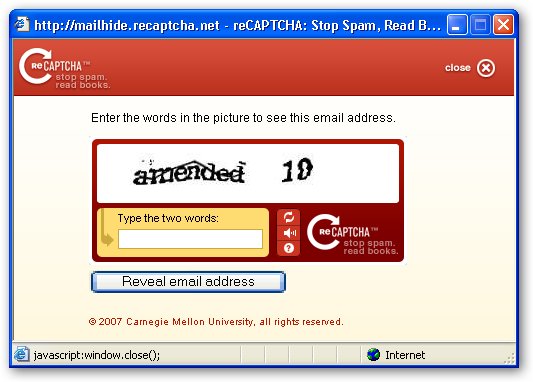 If you are a blog publisher you can use reCAPTCHA plugins to automatically protect all posted e-mail addresses.